The Giles
"Having experienced project management processes across many businesses over the years, I have rarely seen a process as refined and well managed as InForm's".
The story of creating this Brighton home personifies InForm's ambition to meet both a client's functional and aesthetic desires.
'Right now I am standing at the back of the house. We are six days from the winter solstice and the sun is streaming into our living room'.
Adrian Giles is taking a break from working at home when I call him on a sunny June afternoon. Winter fleetingly becomes your favourite season on a day like this, and I can imagine his view right now, out to the loggia underneath the gentle blue sky. Even though he's in the middle of a busy day of work, he's happy to take some time out to talk.
He is looking out to the garden from his office, and I can sense contentment in his voice as he tells me that, despite the southern orientation, the house is airy and light. An abundance of glazing contributes to this, and balanced proportions that make it feel generous yet manageable, luxurious but not extravagant. 'Where we lived previously was much bigger,' Adrian tells me. 'There were whole rooms that went unused and we don't
miss it one bit'.
Adrian and his wife Sarah purchased their previous property with the intention of pursuing the custom, independent architect/builder path. Ultimately, they saw the process through until the end of the design phase, when the project was then put out to tender. 'We received wildly different building quotes,' Adrian says, 'and we knew that there had to be a better way for this to work'. After reconsidering their options they bought an existing house instead of building.
InForm entered the scene a few years later, when the couple were back in the market for a new home. An appreciation and empathy for InForm's modern designs was important, but it was also the guiding framework provided by the firm which appealed, a starting point they could customise as required.
'The way I saw it with InForm was that we could take a pre-design and adapt it to suit our needs', Adrian says. 'We essentially benefited from the best of both worlds by starting with a template and altering it to suit us both functionally and aesthetically'.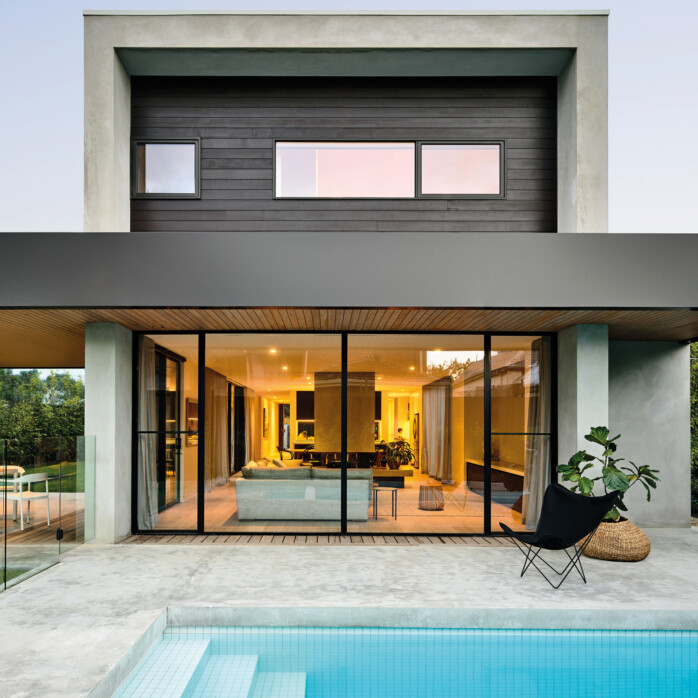 They worked closely with InForm to create a home in perfect harmony with their young family's specific requirements. The resulting design includes an open plan living area, study and master bedroom on the ground floor, with three kids' bedrooms and a rumpus room on the upper floor.
InForm's simplified process was a critical factor for Adrian. It was something that he touched on frequently during our interview, which is not surprising considering the family has been dividing their time between Melbourne and Bali over the past few years. A well resolved process that they could trust from overseas minimised stress, mitigating the tyranny of distance.
'Having experienced project management processes across many businesses over the years, I have rarely seen a process as refined and well managed as InForm's', Adrian tells me. 'I was actually so impressed' he adds, almost laughing, 'I was trying to fault it, but I couldn't'. Such effusive testimonials sound scripted, but Adrian's praise is genuine and authentic.
The design of the home reflects Adrian and Sarah's understated, refined aesthetic, characterised by a minimal palette of sharp, contrasting colours and natural materials.
A large loggia adjacent to the pool includes an outdoor kitchen and open fireplace for shared family moments. Quality, timeless external finishes include cement render walls, metal fascias and timber soffits, with contrasting black powder-coated door frames and screens. The theme of casual luxury extends into the interior, with natural oak floors, dark joinery, and a concrete fireplace suspended between the meals and living space.
'We knew what we wanted', Adrian says of the design, 'but the design team were able to articulate what was in our heads and translate it into a tangible form'.
The children, Hugo and Mimi, can be seen playing outside from numerous vantage points inside the house, facilitating effortless interaction with their parents. Unsurprisingly, the pool, trampoline, and basketball court are Hugo and Mimi's favourite features of the house and, during summer, the large sliding doors are rarely closed. 'The connection to the loggia makes the lounge room feel like one big space in summer', Adrian adds.
As our conversation concludes, and Adrian returns to his work, it's abundantly clear that this family is contented and comfortable in their urban haven. Summer, or winter, it seems, this home is fit for purpose.
This story is an extract from UnFold, our print magazine. Please contact InForm for a copy.